Choosing your engagement ring is both an adventure and a challenge. Where do you begin? What style will appeal the most to your loved one? And above all, which gemstone? Diamonds have dominated the market of engagement rings for a few decades now; however, when it comes to professing everlasting love and individuality, the trend has shifted towards alternative and modernistic stones.
Here are 10 reasons why Tanzanite is perfect for your engagement ring:
Originality
Contrary to popular belief, diamonds have not always symbolized engagements and eternal love. The idea was actually born from the promotional slogan, "A Diamond is Forever" by DeBeers in the 1940s.

However, there has been a recent shift in the choice of stone for engagement rings. People are now putting more focus on originality and buying a stone that reflects their personal style than on following an outdated trend.

Tanzanite is a fairly new gem but ready to take the engagement ring market by storm. With its color, fire, and timeless style, buying a Tanzanite engagement ring is the perfect way of showing your partner and the world just how unique your love is.
Rarity
Tanzanite is listed among some of the rarest and most desirable gemstones in the world. The once-in-a-lifetime conditions of its creation make it incredibly scarce. Found only at the foothills of Mount Kilimanjaro, this gemstone is often referred to as 'The gem of a generation' due to its depleting supply.

The continental shift which provided the heat, pressure, and mineral conditions for the formation of Tanzanite over 585 million years ago is an extremely rare occurrence. Geologists have estimated the probability of Tanzanite ever being discovered again at one in a million.

Considering this, buying a Tanzanite ring for your engagement becomes a symbol of love, unlike any other.
Color
Tanzanite is famous for its trichroic nature. With hues ranging from royal blue to soft lavender and burgundy reds, this gemstone on an engagement ring is a marvelous fashion symbol.
While the stone's color depends greatly on its treatment and cut, lighting also plays a significant role in its coloration. Your engagement ring will showcase different hues at different angles and conditions.
A mid-day sun will bring out the intensity of Tanzanite's royal blue, whereas incandescent light will highlight its soft red undertones.
A Stone of New Beginnings
Since the beginning of time, precious stones are believed to hold mythical attributes which can guide the bearer throughout their life. A Tanzanite is a stone for new beginnings. Known for their positive properties, Tanzanites symbolize prosperity, good fortune, and renewed optimism for a future filled with happiness. A Tanzanite engagement ring contains the perfect stone to carry your love through the ages.
Pairing
Tanzanite jewelry can easily be paired with other gemstones to complement the ring. Smaller diamonds and precious stones are often mounted alongside the Tanzanite to give the ring added glamour. While a ring with Tanzanites only is already elegant and mesmerizing, the choice depends greatly on your partner's personal style and preferences.
A Statement Stone
The color, fire, and intensity of the Tanzanite stone give it an unprecedented character and charisma. Whether you decide to buy an engagement ring with a rather striking stone and intricate design or a more subtle and delicate model, a Tanzanite is a statement stone that is certain to make your loved one stand out in a crowd. Known for its intense blue color, a Tanzanite is a bold, sophisticated, and rare stone symbolizing elegance and style.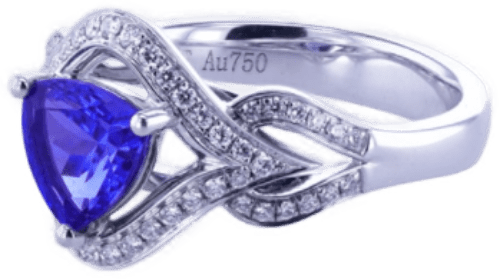 DISCOVER OUR
RINGS
Casual, engagement or wedding bands. We've got them all. Browse through our extensive jewelry collection.
STUNNING
EARRINGS
Studs or dangling, whatever you like. We've got them all. Browse through our extensive jewerly collection.
RADIANT
PENDANTS
Pendants for every ocassion and all kinds of budgets. Browse through our extensive jewerly collection.
VIEW COLLECTION
UNDERSTANDING TANZANITE
BUYER'S GUIDE
Learn about the important grading process on how our Tanzanites are graded based on their 4c's.
LEARN MORE
Increasing Value
Following the law of demand and supply, Tanzanite is a stone that will increasingly gain value over time. With Tanzanite mines expected to irreversibly run out in the next decade, the scarcity of the stone on the market will only allow it to grow in value as it is passed down through generations.

An Heirloom
Rarity, symbolism, and timeless style; all the characteristics of a family heirloom are gathered in this intricate blue gemstone. The passing down of engagement rings has been a lifelong tradition, highly symbolic for many. A Tanzanite engagement ring is a perfect jewel to fulfill this ritual and transmit values, love, and heritage to your children someday.

Affordability
While Tanzanite is at least a thousand times rarer than diamonds, it is also much more affordable. Given its rarity, the stone would be expected to cost a high premium on the market, however, the gem has an incredible value for money which makes it a good investment.
Tanzanite thus has a relatively low price per carat making it a perfect and affordable choice for large and small engagement rings. As personal preferences and taste should be a leading factor when buying an engagement ring, Tanzanite's fair price gives you the freedom of choosing the perfect size, shape and cut of the stone for your special day.
A Token of your Love
While a diamond symbolizes longevity and security, a Tanzanite can be a token of uniqueness signifying a one-of-a-kind love. The extra care put into buying the perfect engagement ring which compliments your partner's personality and style is proof of your perpetual affection. Overcoming a commercial trend and investing in this intense indigo-blue gem is a choice you will not regret.
Visit us to get your perfect Tanzanite Engagement Ring today
Visit one of our multiple stores or have a look at our online catalog for more information about this gem of exquisite beauty. Our expert staff will gladly guide you through the choosing process and help you find the perfect ring for your special day.