It's his big day.
As Father's Day rolls around, it is time for you to show your dad how much he means to you. But how best to show him you care? You are probably starting to worry about finding the perfect gift with a touch of class, originality, and style. Well, since its arrival on the market, Tanzanite has been a symbol of just that. Being a thousand times rarer than diamond, a Tanzanite gift is a token of uniqueness and timeless class.
Contrary to popular belief, men's jewelry options do not stop at wedding rings and watches. Men's accessories have grown in popularity in the past years as they are a great way to elevate an outfit or showcase their personality. Our catalogue offers the following rings and necklaces as both classic and modern options for a great Father's Day gift.
Here are some of our top picks for a stylish and unique gift:
Tanzanite Rings
1. Octagon Stone (9018)
This ring is the perfect balance between classic elegance and daring style. Set in a minimalist white gold mount, the 6.50 carat Tanzanite has an octagon cut for a modern and simple look, despite its classic design. The deep blue Tanzanite is sure to make a bold and tasteful statement.
[smartslider3 slider="17"]
2. Oval Stone (5418)
The 1.74 carat oval shaped Tanzanite in this ring has been mounted in an elaborate and sleek design of white gold. Diamonds mix in this polished style to emphasize the intense and eye-catching Tanzanite blue. With its smooth lines and unique shape, this ring offers a more contemporary feel.

[smartslider3 slider="3"]
3. Round Stone (7910)
For a more classic look, this silver ring with its 0.30 carat stone offers a more discreet take on jewelry for men while remaining elegant. With its subtle Tanzanite gem, the detailed lines give the ring a more refined look.
[smartslider3 slider="4"]
4. Cushion Stone (5371)
This more masculine and bold design showcases a 3.40 carat cushion shaped Tanzanite rimmed with diamonds to, once again, bring out the famous Tanzanite blues. This sizeable ring offers an audacious and imposing style.
[smartslider3 slider="5"]
Africa Necklaces
Our Africa shaped necklaces come in 3 different models. They are a nice token of remembrance for someone with an African heritage or a liking and appreciation for the country. The stones are mounted to symbolize the location of Tanzania on the African map as a tribute to its origin and only source in the world.
5. The Silver with Round Stone
This pendant is a simple model made of silver in the shape of the African continent. Its 0.25 carat Tanzanite has a round cut, one of the most appreciated shapes to date.
[smartslider3 slider="6"]
6. The White Gold Outline with Oval Stone
In the same shape, the pendant has a white gold rim in the outline of Africa. Its Tanzanite gemstone is of oval shape for added flair.
[smartslider3 slider="7"]
7. The Yellow Gold Outline with Round Stone
Much like the White Gold Outline, this pendant has a similar shape but with a slightly thicker border. The 0.10 carat stone is also of round cut.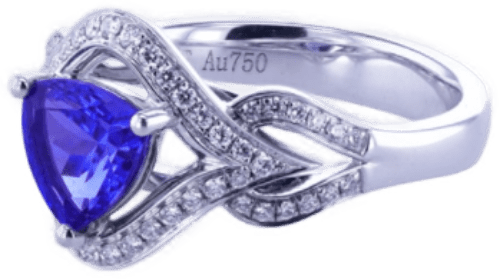 DISCOVER OUR
RINGS
Casual, engagement or wedding bands. We've got them all. Browse through our extensive jewelry collection.
VIEW COLLECTION
STUNNING
EARRINGS
Studs or dangling, whatever you like. We've got them all. Browse through our extensive jewerly collection.
VIEW COLLECTION
RADIANT
PENDANTS
Pendants for every ocassion and all kinds of budgets. Browse through our extensive jewerly collection.
VIEW COLLECTION
UNDERSTANDING TANZANITE
BUYER'S GUIDE
Learn about the important grading process on how our Tanzanites are graded based on their 4c's.
LEARN MORE
[smartslider3 slider="8"]
8. Hot Air Balloon
On a more specific side, this pendant is a tribute to one of the most famous attractions in Tanzania, the Hot Air Balloon safaris over the Serengeti. This pendant is a nice gift for an avid flyer, or a memento of a great experience spent together. If he enjoyed a hot air balloon safari, this necklace is a good token which will help him carry this memory close to his heart at all times.
[smartslider3 slider="9"]
Animals Pendants
Animal shaped pendants give you the opportunity of choosing the animal whose characteristics and symbolism best matches your father's personality and values. It can thus be a great way of telling without words, just what you admire most in him.
9. Lion
The lion, also referred to as the King of the Animals, has very distinctive characteristics and symbolism. Known to mean Royalty, the lion also stands for Courage, Power and Confidence. The personal traits of this majestic wild animal are often found among people with a strong character.
[smartslider3 slider="10"]
10. Cheetah (Front)
The fastest animal in the kingdom, the cheetah is a symbol of Fast Thinking and Action, Intelligence and Passion. Famous for its cleverness and good judgement during hunts, the cheetah is also a well-known for the unconditional love it bears its cubs. A pendant of this style is good choice for a loving and patient parent with great spirit and motivation.
[smartslider3 slider="11"]
11. Cheetah (Bust)
Our catalogue also offers the cheetah pendant in this new light. With similar characteristics and attributes mentioned above, this piece of jewelry proposes a different angle to the cheetah we all love.
[smartslider3 slider="12"]
12. Buffalo
The buffalo is one of the most abundant herbivores found in Africa. It has a high symbolic importance to the locals as it represents Strength, Abundance and Stability. The Buffalo pendant would thus symbolize a grounded personality and an abundance of potential.
[smartslider3 slider="13"]
13. Rhino
While the rhinoceros may give off an air of Danger, Strength and Power. It is also a figure of Courage, Stability and Longevity. More on the solitary side, the rhino demonstrates an introverted personality while still being an example of incredible strength and free spiritedness. Rhinos are also known symbols of long life.
[smartslider3 slider="14"]
14. Crocodile
Dangerous and fascinating, the crocodile is patient and cunning. Often seen in the Mara River in the Serengeti, these intriguing creatures are representative of Freedom, Power and Strength.
[smartslider3 slider="15"]
15. Elephant
The elephant is a revered animal in African culture and around the world. Symbol of Good luck, Wisdom and Loyalty, the elephant is praised for its gentleness and high mental faculties.
[smartslider3 slider="16"]
Tanzanite Jewelry is a rare, soulful, and elegant gift. Be a ring or necklace, Tanzanite gives you the chance to best demonstrates the extra-care and affection put into choosing the jewelry which best describes your dad's personality. For this special occasion, the rings mentioned above are sold with a 20% discount. *
As picking a piece of jewelry is a delicate matter, we would gladly open our Blue Plaza outlet upon your request, to allow you to have a closer look at our collection with the guidance of our experts.
*Terms and Conditions Apply