Tanzanite is one of its kind that is equally captivating and magnificent. The gemstone is the rarest of its kind and has become a sensation in the last century. Why do we want to talk about tanzanite? Well, we aim to best educate our valued customers to make their experience wonderful as they step into the market to buy tanzanite rings. Whether you are searching for the best tanzanite engagement rings or beautiful tanzanite rings with diamonds, this guide efficiently covers every aspect of buying tanzanite rings.
By the end of this guide, you will have a complete understanding of the unique gemstone and also knowledge about how to choose the best tanzanite rings that will catch everyone's attention.
What is tanzanite?
Tanzanite wedding rings and tanzanite engagement rings are the most sought-after rings in the market. The reason-  the exclusive allure of tanzanite. However, tanzanite is not just a gemstone but one of its kind as it has amazing properties and features. If you are ready to unravel the uniqueness of this gemstone, this blog has a lot of amazing information for you.
Tanzanite origin
A lot of tanzanite's value comes from its origin as it is exclusively sourced from one single place in the entire world. Yes, tanzanite is a gemstone that is the rarest and even beats diamonds when it comes to exclusivity.
There is a small patch of mines near the Mererani hills of Tanzania just below the grand Mount Kilimanjaro where tanzanite is mined. The fact that it is sourced from a single origin makes this gemstone very valuable in the gemstone market and thus a perfect choice to make tanzanite wedding and engagement rings.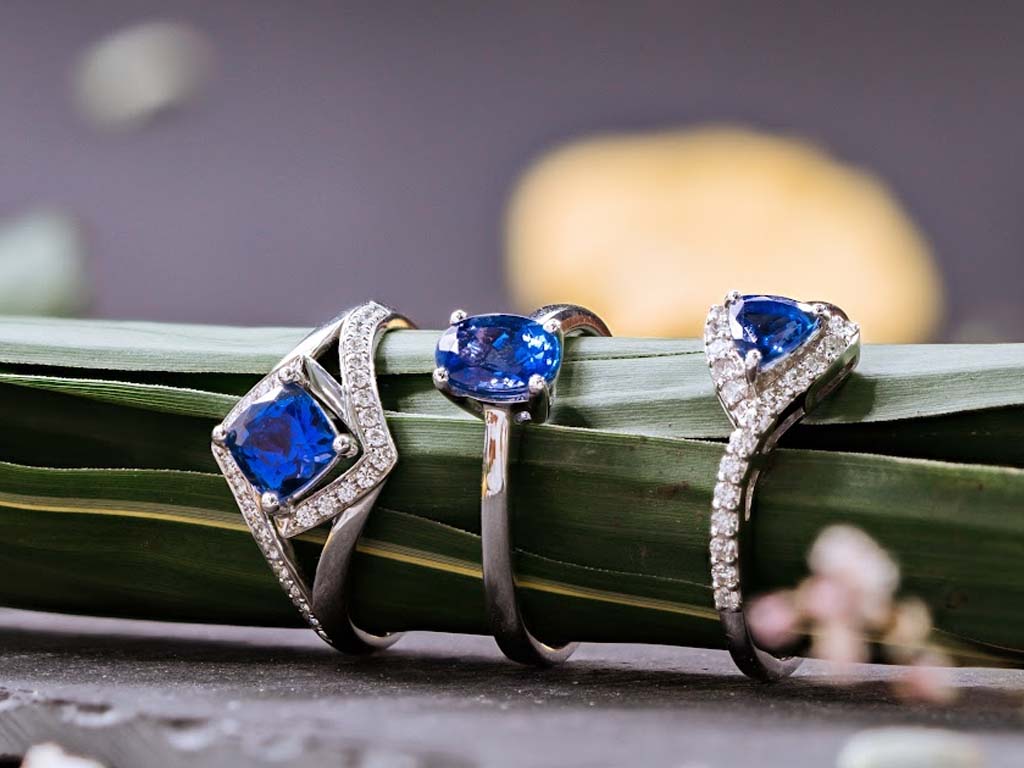 The color story of tanzanite
Want to buy tanzanite rings? Well, we are pretty much sure its intriguing color would be the primary reason! Yes, tanzanite features a spectrum of colors ranging from violet to blue and even red (rarely). It is a pleochroic gemstone which means it exhibits a different hue depending on the light and angle. The gemstone can show a vivid blue color or a shimmering violet and even shades of burgundy under different lights. This pleochroic quality adds another feather to its hat. Hence, if you are considering buying a Tanzanite wedding ring, you are surely making the best decision.
A few facts about tanzanite: reasons to buy tanzanite engagement rings/tanzanite wedding rings
In a nutshell, tanzanite is a precious stone that has leapfrogged the majority of the big players of the colored gemstone galaxy. Some interesting facts about tanzanite that will help you understand this stone even better include:
Its origin:
We have already talked about the single-point origin of this gemstone. It is found at only one place in the entire planet and that is near the foothills of Mount Kilimanjaro in Tanzania.
Its uniqueness:
Its origin contributes to its uniqueness and makes it rare because it is one-of-a-kind gemstone. This means that you must buy tanzanite rings without any confusion.
Its color:
The color spectrum of tanzanite is like no other gemstone. It features shades of violet to blue and is even available with a hint of burgundy. It has pleochroic properties which means it shows different colors under different lights.
Its charisma:
It's been just 500+ years since tanzanite became known to mankind and in this short span, it has created more magic than other gemstones that are thousands of years old.
Tanzanite: the newest gemstone making the finest tanzanite engagement rings
Tanzanite has become one of the most popular choices for creating engagement rings. Beating other colorful gemstones, this rare and precious gemstone is widely used in combination with other gemstones in making of finest engagement rings. Tanzanite rings with diamonds are a sensation.
The primary reasons behind the popularity of tanzanite are its premium color along with its healing and mystical properties. Also, it is a naturally made gemstone that gets its unique color from the heat emitted during the metamorphic process underground. No doubt its color is further enhanced through artificial heat treatment, but pure tanzanite with high saturation and no inclusions is a sight to behold and a reason for you to buy tanzanite rings.
Type of tanzanite rings available in the market
Tanzanite is a gemstone for all. It breaks the gender barrier and comes out as a unique gemstone that can be worn by men and women both. You can buy tanzanite engagement rings for the woman of your life or a perfect tanzanite wedding ring for the man you will say 'I do!'
Gladly, there are amazing tanzanite ring options available in the market which gives you choices to choose a perfect one that matches your personality, taste, style, and of course the occasion.
For engagement rings, you can buy beautiful tanzanite engagement rings for men and women both. The engagement rings for women feature delicate designs with a combination of tanzanite with other gemstones. These rings are sleek with intricate designs but also have options in designs that are grander and with one or more numbers of tanzanite stones fitted in one ring. The most popular engagement rings in this category are tanzanite rings with diamonds.
For the men's category, tanzanite engagement rings are sturdier in design featuring a masculine appeal. They majorly belong to the band category and have tanzanite settings in a range of metals including White Gold, Silver, Rose Gold, Yellow Gold, and more.
Talking about tanzanite wedding rings, they again exhibit great variety and you can pick the one that attracts you the most. You can easily find the wedding ring of your dreams in the Tanzanite wedding rings segment at The Tanzanite Experience. The metal, carat, and color options are plenty so there is one perfect ring for every budget.
For men, there are tanzanite wedding rings with diamonds setting with a special focus paid by the craftsman to maintain the manly appeal.
The ultimate tanzanite rings buying guide for men and women
We have already established that tanzanite is a perfect gemstone for engagement rings and wedding rings and also that it is suitable for both genders. Now that you are all set to buy a tanzanite ring for your special occasion, we would like to offer you some guidance to ensure you end up investing in the best piece. Yes, it might amaze you but since tanzanite climbed the ladder of popularity, this gemstone is largely being imitated by rogue sellers and hence a large number of fake tanzanite rings and other jewelry is circulating in the market.
To protect our valued customers, we have specifically crafted this ultimate guide to help you choose the unique tanzanite rings for women and men.
Check the credibility of the seller
The first step towards a safe Tanzanite wedding ring buying experience is to check the credibility of the seller. You will find endless sellers offering tanzanite engagement rings and wedding rings near you but not all of them are worth your trust and investment. Buy only from a credible jeweler who has a long-standing presence in the market along with a client pool to vouch for their trustworthiness. You can read online reviews, check the seller's website, and consider their registration details to know the seller better.
At The Tanzanite Experience, we are one of the top sellers of tanzanite rings with several years of respectful existence in the market. We sell tanzanite wedding rings, tanzanite engagement rings, and tanzanite rings with diamonds for both women and men at the best price.
The price of a tanzanite wedding ring depends on the value of the metal as well as the value of the gemstones. You must assess the value of the gemstone for color, carat, cut, and clarity. These are a few factors that affect the price of tanzanite. Deeper-colored tanzanite is more expensive than the ones showing lighter hues and similarly, tanzanite with inclusions is cheaper than the ones with no inclusions.
The experts at The Tanzanite Experience guide you throughout the process and ensure that you only buy the best tanzanite rings.
The choice of metal also affects the price of the tanzanite wedding rings and tanzanite engagement rings. A few metal choices available in the tanzanite ring segment include Yellow Gold, Rose Gold, White Gold, and Silver.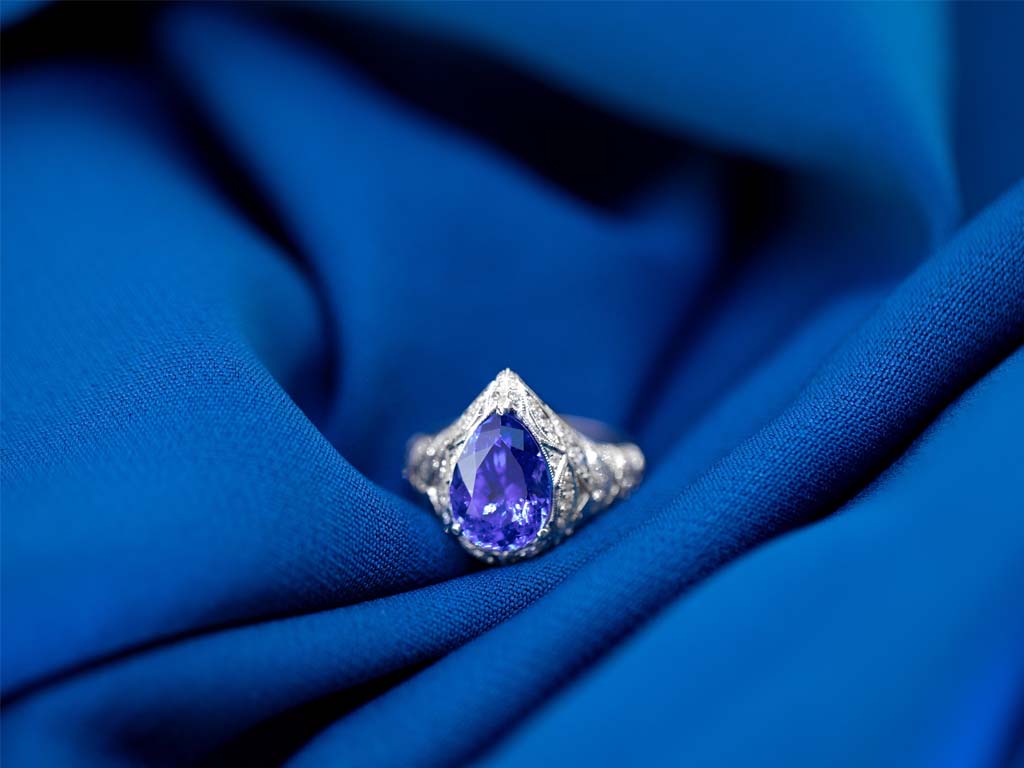 Choice of complementing gemstone
If you decide to buy a tanzanite ring design featuring a combination of tanzanite with other gemstones, the price would vary. The most popular option in this segment is tanzanite wedding rings with diamonds.
Tanzanite makes the finest choice of gemstone for wedding rings and engagement rings, We hope that this guide will help you make the best decision as you buy tanzanite rings. Tanzanite wedding rings are a charm and tanzanite engagement rings are perfect to mark the beginning of a new relationship. Explore the inventory of tanzanite rings with diamonds at the tanzanite experience and buy the best tanzanite rings for your loved ones.