Marriage has always been and still is one of the biggest responsibilities/decisions that you as a man will make in your life. A common marriage tradition for a man is to buy an engagement ring for his partner. The ring showcases his love and affection towards his soon to be wife, so it's a choice not to be taken lightly.
For a lot of men, the purchase of an engagement ring will be the first time that they have gotten into the crazy world of jewelry. Many terms will be thrown that will be foreign to them, but no worries, we have a guide to help you pick the best engagement ring.
Before we begin, we'd like to introduce you to Tanzanite, a beautiful gem like no other that your significant other will definitely appreciate. You can visit our online shop or any of our other locations to see what we have to offer. Not convinced, here's why you should go for a Tanzanite engagement ring.
Why Go For a Tanzanite Engagement Ring?
The Beauty of the Stone
The Tanzanite gemstone is known for its beauty and rarity. It comes in blue violet and violet colors that can be vivid and stand out. The gemstone is also trichroic meaning that it can produce multiple colors when set under different lights. It's not everyday that you'll find someone wearing Tanzanite jewelry. 
Your bride to be is going to flaunt the ring to family and friends so why not get her a ring that is both unique and beautiful. Proposing with a Tanzanite engagement ring is definitely going to set you apart.
There is a Ring for Everyone
What we mean by this is, you're definitely going to find a ring that she is going to love and adore. Tanzanite can be set in any kind of metal. It works well with all metal colors. It can also be combined with other gemstones such as diamonds to provide a classy and elegant look. You can have a look at our collections of Tanzanite rings to see how beautiful the gemstone looks when set in gold and silver. 
It's a Quality Gemstone
When referring to quality we look at two features of the gemstone that make it standout, the hardness and durability properties. You can rest assured that with proper care, your tanzanite stone is going to look beautiful for years to come. It will still sparkle and look great on your bride during the wedding day.
Tanzanite also does not require a lot of special care. It's easy to clean and maintain. You can check this article on how to take care of your Tanzanite Jewelry.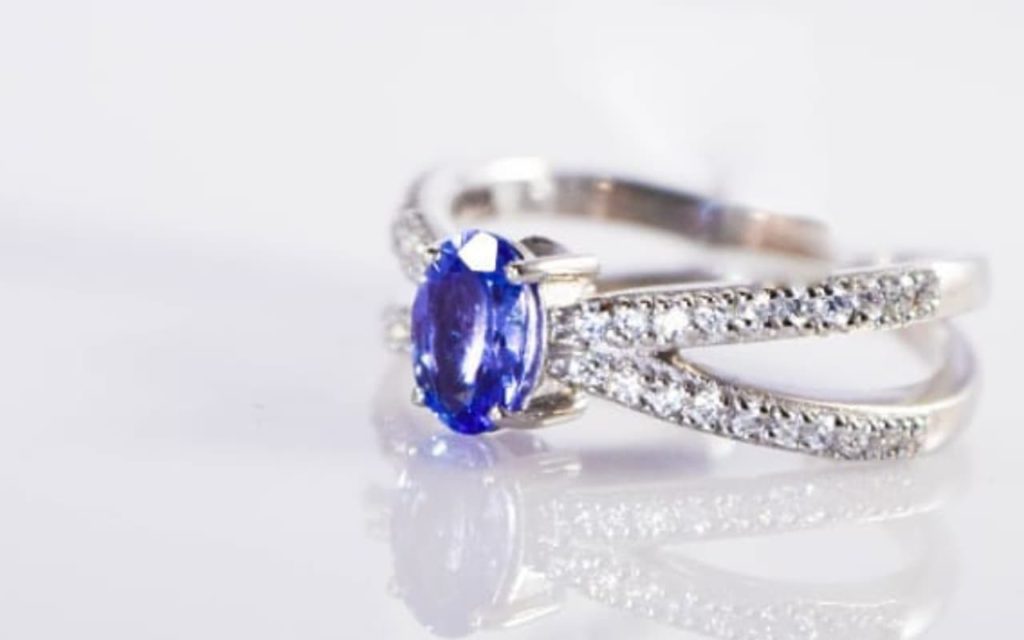 What to Think About When Selecting a Tanzanite Engagement Ring?
You should be careful when deciding what engagement ring to buy. You shouldn't just walk in the jewelry shop and buy the first ring you find. Here is some food for thought to make sure you're getting the best engagement ring for your significant other.
Your Budget
Engagement rings come in all price ranges from the affordable to the expensive. In order to make your shopping experience seamless (as there will be plenty of rings to choose from), you need to set a budget, how much are you willing to spend on the ring? This will make it easier for the jeweler to show you all the best rings within your price range.
A word of advice, don't spend too much on a ring, set a budget that you'll be comfortable with and won't put financial pressure on your marriage.
Her Jewelry Preferences/Style
You need to get her style right when you decide what Ring you want to buy for your partner. The best option would be to both visit the Jewelry shop and get a feel of the rings on offer.
It's not easy to know whether a style resonates with your partner until she tries the ring on her finger. Remember, she'll have this ring on her finger for a very long time, so you need to make sure it's something you both love or else that might turn into an expensive mistake.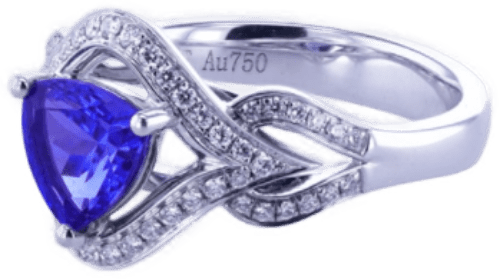 DISCOVER OUR
RINGS
Casual, engagement or wedding bands. We've got them all. Browse through our extensive jewelry collection.
VIEW COLLECTION
STUNNING
EARRINGS
Studs or dangling, whatever you like. We've got them all. Browse through our extensive jewerly collection.
VIEW COLLECTION
RADIANT
PENDANTS
Pendants for every ocassion and all kinds of budgets. Browse through our extensive jewerly collection.
VIEW COLLECTION
UNDERSTANDING TANZANITE
BUYER'S GUIDE
Learn about the important grading process on how our Tanzanites are graded based on their 4c's.
LEARN MORE
Shape & Quality of the Gemstone
Once you've your budget set, you need to decide the Tanzanite stone that you'll want for your engagement ring. The shape that you ultimately decide to pick is dependent on you partner's style and preference.
You also need to be wary of the quality of the gemstone. The quality is determined by the 4C's; Clarity, Cut, Color & Carat Weight. You can read more about the 4C's here. You can sample the quality stones we have on offer on our online shop. We're always happy to assist.  
The Ring Band
Once you choose the stone, you need to choose the ring band. These two normally go hand in hand. There are a variety of choices to choose from as far as bands are concerned. It also helps that Tanzanite as a gemstone works well with any type of band. You can have a look at our catalog of rings as an example.
You and your partner can choose from Yellow Gold, White Gold, Silver and more. Each band type has its advantages and disadvantages.
For instance, Gold is a soft metal that can be polished and buff over time, so it can keep its shine over the years, but this also makes it more prone to wear and tear.
On the other hand, bands like platinum are durable, but hard to restore to their previous luster & shine. In the end, the ring band you choose will depend on personal preferences and style.
The Ring Setting
When the Jeweler talks about the Ring setting, he/she is referring to the way that the stone is mounted on the ring. There are different types of settings such as the channel setting, Tiffany setting, Bezel setting. The choice of ring setting like many other aspects is down to personal preference and style of your bride to be.
The Ring Size
You need to make sure that you get this absolutely right. The last thing you want is to get down on one knee and have the ring fall of her finger in what is meant to be a perfect moment. You can refer to online guides to help you make sure you get the right ring size. With that said, you can have a ring resized, but that will cost you extra.
Where to find the best Tanzanite engagement rings?
We might be biased, but we know of a reputed Tanzanite dealer that can get you the best Tanzanite rings directly from the source. You can also visit their shops or check their online catalog to view some of the best collections. Alternatively, simply contact them and they'll be happy to assist you.