At the scenic foothills of Mount Kilimanjaro lie the Merelani Hills, the only place in the entire world where Tanzanite is found. It is only in this mythical place, that the Tanzanite stone was first discovered and unearthed. The area of the Tanzanite mines spans only 14 square kilometers along the hills.
How Tanzanite Was Formed
The groundwork for the grand entrance of Tanzanite into this world began 585 million years ago with the continental shifts that created Mount Kilimanjaro and the Great Rift Valley.
During this process, the collision of the tectonic plates caused their different minerals to morph together under intense heat and pressure to create elongated pods known as 'boudins' which are the sediments that bear the unique Tanzanite today.
This natural process of the heating and compression of those specific minerals explains the formation of this unique source of crystals structures which form the Tanzanite gem.
Some Tanzanite Facts You Should Know
It's a rare Gemstone
The circumstances that led to the formation of Tanzanites were so exceptional that it's hardly likely to find this gem occurring naturally anywhere else in the world. After all, it took the birth of a natural monument as impressive as Mount Kilimanjaro to craft the Tanzanite stone. This makes it a thousand times rarer than diamond.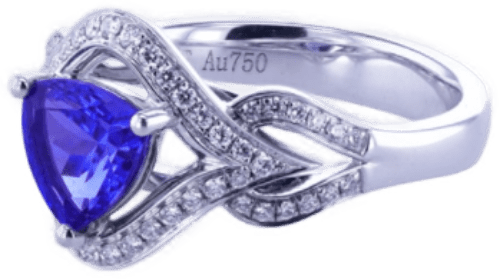 DISCOVER OUR
RINGS
Casual, engagement or wedding bands. We've got them all. Browse through our extensive jewelry collection.
VIEW COLLECTION
STUNNING
EARRINGS
Studs or dangling, whatever you like. We've got them all. Browse through our extensive jewerly collection.
VIEW COLLECTION
RADIANT
PENDANTS
Pendants for every ocassion and all kinds of budgets. Browse through our extensive jewerly collection.
VIEW COLLECTION
UNDERSTANDING TANZANITE
BUYER'S GUIDE
Learn about the important grading process on how our Tanzanites are graded based on their 4c's.
LEARN MORE
It's known as the Gemstone of the Generation
Tanzanite is also very limited in supply. It is estimated that the world will run out of its Tanzanite stockpile within the next two decades or so. Tanzanite is thus known as the "gemstone of the generation" after the short but memorable lifespan of its source. The vibrant trichroic stones will no longer be available for purchase from the primary market.
Tanzanite is as rare as it beautiful. Seize this opportunity and get you or your loved one, this gift of a lifetime. A reputable Tanzanite dealer can get you jewelry and gemstones of high quality. In addition, a certificate of authenticity will also be provided with the purchase. Read more about this in the Tanzanite buying guide. It is very important that you exercise caution when looking to purchase this rare gemstone and to deal solely with experts and professionals.