Within the decade, Tanzanite experience has been able to sell high quality Tanzanite gemstones and jewelry. We have accomplished this via our online store and through our shops in Arusha, Manyara, Tarangire and Ngorongoro.
With locations across Tanzania, in cities and national parks alike, we have been able to cater to locals and tourists visiting the country. We thought that it was high time for us to bring Tanzanite to Zanzibar - from bush to the beach.

A Brief About Tanzanite
Did you know that Tanzanite comes in different hues of blues and violets? Tanzanite displays vibrant hues of blues and violets. It is one of the rarest gemstones found only in Tanzania, in the Mererani Hills in Arusha.
Depending on which direction it is viewed, Tanzanite can appear blue, violet or even red. However, blue remains the most sought-after and high-value color of Tanzanite. If you are looking for a piece that states uniqueness, rarity and elegance, then Tanzanite is your best bet, the bluer the better
A Bit About Zanzibar; The Spice Island
Did you know that Zanzibar is the best place in Tanzania to enjoy clear blue ocean water and white sandy beaches. It also has the most mesmerizing sunrise and sunsets.
Zanzibar is located off the East Coast of Tanzania. It is made of two islands, Unguja Island (what most people refer to as Zanzibar) and Pemba Island. It is well known for its beach experiences, offering memorable opportunities for swimming, surfing, diving, fishing and a lot more.
The island also has an abundance of fish and seafood. You can witness this by visiting Forodhani gardens in the evenings. You will be amazed by the variety of fish and seafood on display.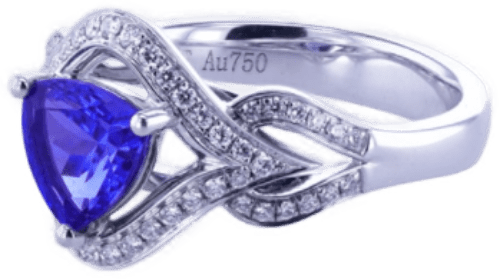 DISCOVER OUR
RINGS
Casual, engagement or wedding bands. We've got them all. Browse through our extensive jewelry collection.
VIEW COLLECTION
STUNNING
EARRINGS
Studs or dangling, whatever you like. We've got them all. Browse through our extensive jewerly collection.
VIEW COLLECTION
RADIANT
PENDANTS
Pendants for every ocassion and all kinds of budgets. Browse through our extensive jewerly collection.
VIEW COLLECTION
UNDERSTANDING TANZANITE
BUYER'S GUIDE
Learn about the important grading process on how our Tanzanites are graded based on their 4c's.
LEARN MORE
However, the mesmerizing blue ocean is not the only thing that we love about Zanzibar, or what makes it unique. Zanzibar is rich in cultural history as it was once under the influence of the Sultanate of Oman.
Traces of that influence can be seen to date via the buildings such as Sultan's Palace, as well as influences in religion and culture. While the islands were ruled by other nations, the Arabs left a stronger footprint which can still be seen in Zanzibar today.
Being a producer of spices such as cloves, nutmeg, cinnamon and black pepper, Zanzibar gained the name "Spice Islands". The spice market in Zanzibar is a perfect opportunity to indulge your sense of smell, and makes for a great shopping opportunity for souvenirs.
Store coming soon in Serena Hotel Zanzibar
For the love of all that is unique and rare, we couldn't help to make the blues meet. Tanzanite Experience is soon to be available in Zanzibar. We are truly excited to bring our favorite elegant blue stone to our favorite exotic island.
It makes you wonder why people say they're feeling blue when they're not feeling good. Certainly blue is a wonderful shade, and we welcome you to explore Zanzibar and stop by our shop.