Elegant, beautiful, sparkly, and timeless, gemstones have been a token of style and wealth for centuries. Some of these rare colorful stones have even been known to be incredible stores of value as their worth tends to increase with time and scarcity. However, advancements in synthetic production paired with some suppliers' constant desire to earn more money have made the market for precious stones a tricky place to venture unaware. Nowadays, multiple counterfeits, synthetic replicas, and fakes can easily be mistaken for the real deal, causing buyers to spend large amounts of money on stones with little to no value.
Due to its scarcity, Tanzanite has become a widely counterfeited gem, and buyers worldwide should be careful when trying to acquire it. Luckily due to its specific properties, there are some steps you can take or features you can look out for to tell if your Tanzanite stone is authentic. Here are some common replicas of Tanzanite and how to easily distinguish between real and fake Tanzanite.
Common replicas of Tanzanite:
Synthetic Forsterite
Manufactured in Russia since the late 90s, synthetic forsterite has a very similar coloring to Tanzanite but none of its intensity and trichroic properties. This type of forsterite, however, can easily be confused for low or medium-grade Tanzanite by an inexperienced eye.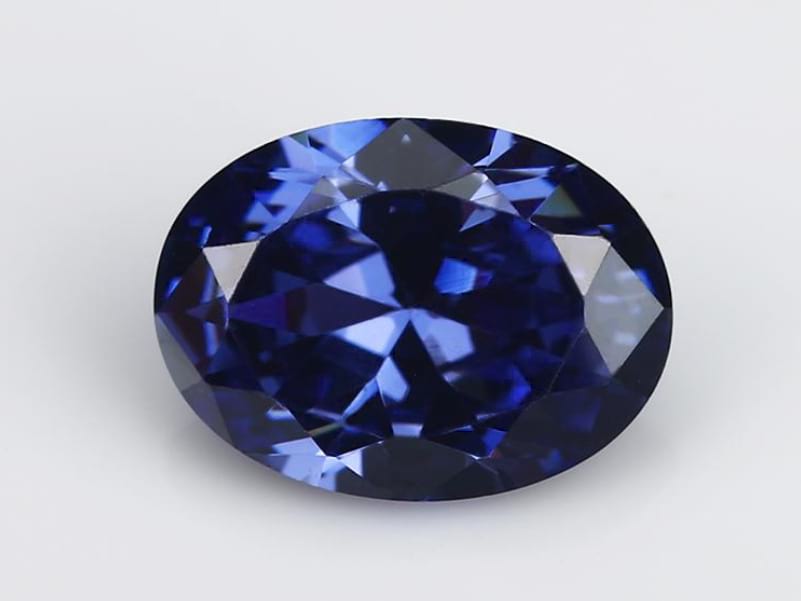 Cubic Zirconia, Synthetic Spinel, Yttrium Aluminum Garnet (YAG), and Glass
These imitations have also been widely used as counterfeit Tanzanite and can usually be easily distinguished as they are all singly refractive while Tanzanite is doubly refractive.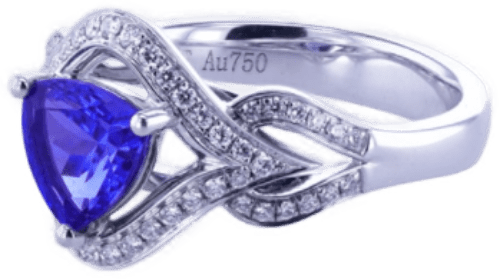 DISCOVER OUR
RINGS
Casual, engagement or wedding bands. We've got them all. Browse through our extensive jewelry collection.
VIEW COLLECTION
UNDERSTANDING TANZANITE
BUYER'S GUIDE
Learn about the important grading process on how our Tanzanites are graded based on their 4c's.
LEARN MORE
How to spot the difference between real and fake Tanzanite?
Lookout for its Trichroic properties
Tanzanite is a rare trichroic gem meaning that the stone can display three different colors in the same gem in three directions. This unique feature can be a great preliminary test to find out if your gemstone is a fraud.
When viewed from the sides, a typical deep blue Tanzanite can showcase undertones of violet from one angle and even red from another. Looking at your gem from an angle may help you determine its authenticity. The same trichroic principle can also be applied when it comes to lighting. Under the fluorescent white light of an office, your Tanzanite should appear a deep royal blue, whereas softer and warmer lights should bring out the purple and reddish axes of the stone. Some people have even mentioned noticing a 'red flash' when seeing the gem under yellow light. If your stone appears blue under all types of lighting, you can be sure it is not a real Tanzanite.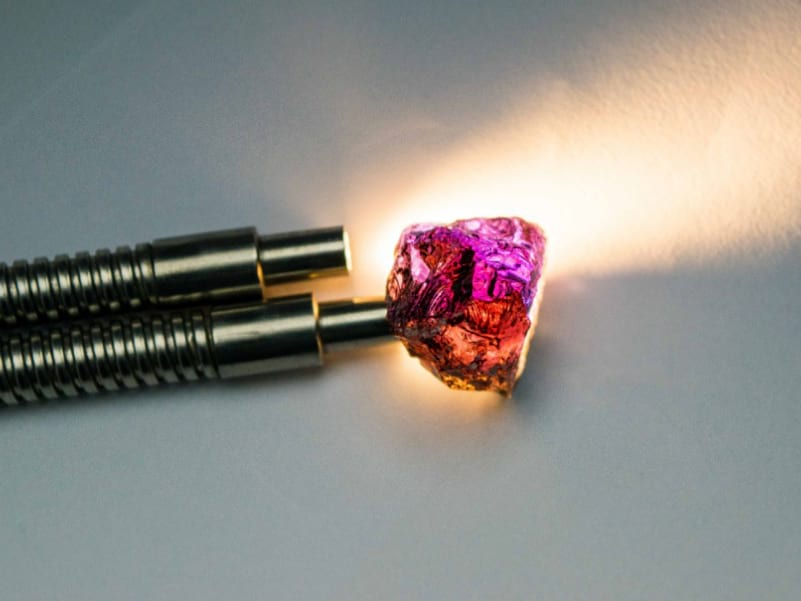 Check for inclusions
To the naked eye, a Tanzanite may seem utterly flawless. However, when magnified to about 10 times their initial size, most Tanzanites will show some inclusions. Inclusions are tiny scratches or imperfections often found on the surface of some gems. If you examine your gem under a 10x magnifying glass and can find no noticeable inclusions, then your stone is probably a fake.
Birefringence or Doubling effect
Another less-known way of checking for a Tanzanite is to try and observe if the stone exhibits birefringence. Birefringence is the refraction of light in a gem material that has the ability to break light into two different directions. How high or low the birefringence index is, depends on the difference between the highest and lowest refraction indices. Tanzanite has a very low birefringence index compared to synthetic forsterite.
To check your Tanzanite, simply observe one of the back facets of your stone with a magnifying glass. Looking through the crown facets, focus on the pavilion side that may seem doubled. If this is the case, your gem is probably a replica made of synthetic forsterite. The doubling effect in synthetic forsterite is due to its high birefringence index.
Watch out for coatings
The coating is among treatments that are done in various gemstones. Some low-value Tanzanites have sometimes been found with a thin coating of cobalt as it can improve the color of a low-grade blue stone. While this is technically a Tanzanite, this still means that you probably paid much more than the real value per carat of the gemstone you purchased.
Importance of buying from a genuine company:
While a real Tanzanite is a great store of value and an incredible investment to make in the coming years, being tricked by a fake gem is a huge waste of money, one you might not realize until it is too late. Just imagine passing down your pride and joy Tanzanite gemstone to your children or grandchildren or having the gem evaluated to be sold during a hard time, only to realize you have been tricked and your stone is actually only worth a few pennies.
In order to avoid such disappointment and bad investments, it is always recommended to buy your Tanzanite from a genuine company that only has your best interest at heart. But how can you tell if a company is trustworthy or not when multiple sellers of replicas have become so skilled at covering their tracks? Here are a few things a genuine company usually has:
Well-established brand
A genuine company understands the importance of creating a strong and easily recognizable brand. On a basic level, this may look like a well-defined logo, a standard brand color, similar fonts for their communications, and a matching packaging set. However, a more in-depth look should also highlight more subtle identifiers such as a coherent brand message across all communication.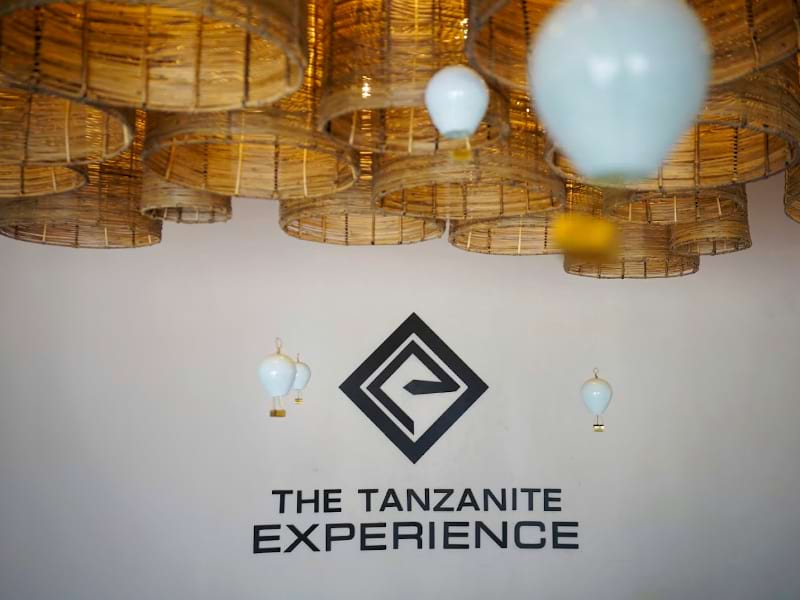 Online presence
In our modern times, it is incredibly rare to find a genuine Tanzanite seller without an online presence. The Tanzanite Experience, for example, has a well-developed and thoroughly designed website, blog as well as social media pages. Armed with our constant desire to raise awareness about this unique and stunning blue gem, our online presence and activities all follow a common theme that can be found across all our platforms. Our blog also helps us to inform and educate people about the many features and opportunities found in a Tanzanite stone.
Physical outlets
Genuine companies will also usually have one or more outlets and showrooms where customers can search for their perfect Tanzanite from a wide range of cuts, shades, and carats. Tanzanite Experience is the proud owner of eleven stores scattered around Tanzania and even Zanzibar Island. The outlets are positioned at key points in airports, lodges, and also in the Serengeti. Our shop at the Arusha Blue Plaza also boasts the world's only Tanzanite Museum where visitors can learn everything about the famous blue stone.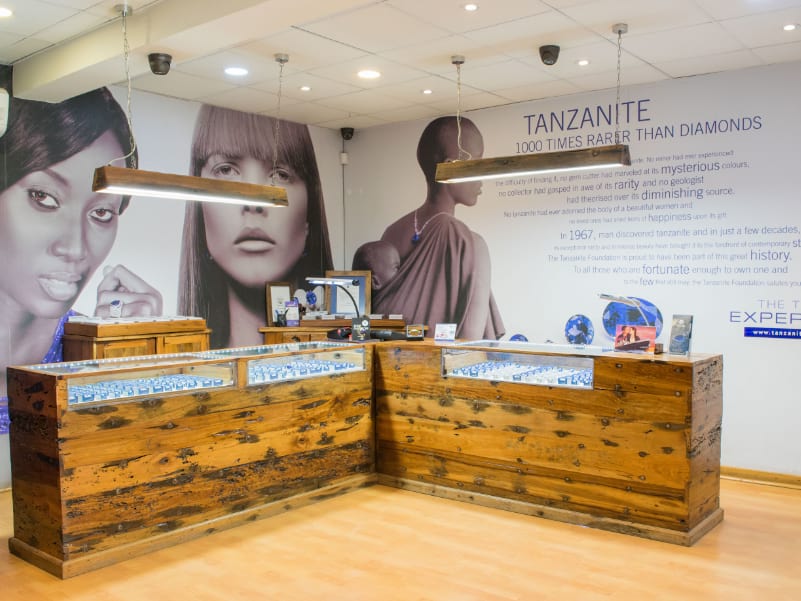 If you, nevertheless, decide to go for an online company that does not have a showroom or store, you should definitely check the company's return policy and verify that the address and contact information found on the website are genuine and not fake.
Testimonials
Probably a trick as old as the emergence of online shopping, checking the reviews and ratings of previous customers is usually a good way to shape an idea about a company. While word of mouth may not be the most common way of getting feedback nowadays, online reviews and client testimonials can make or break the reputation and credibility of a brand. A company with multiple positive ratings may be worth considering among other selection criteria.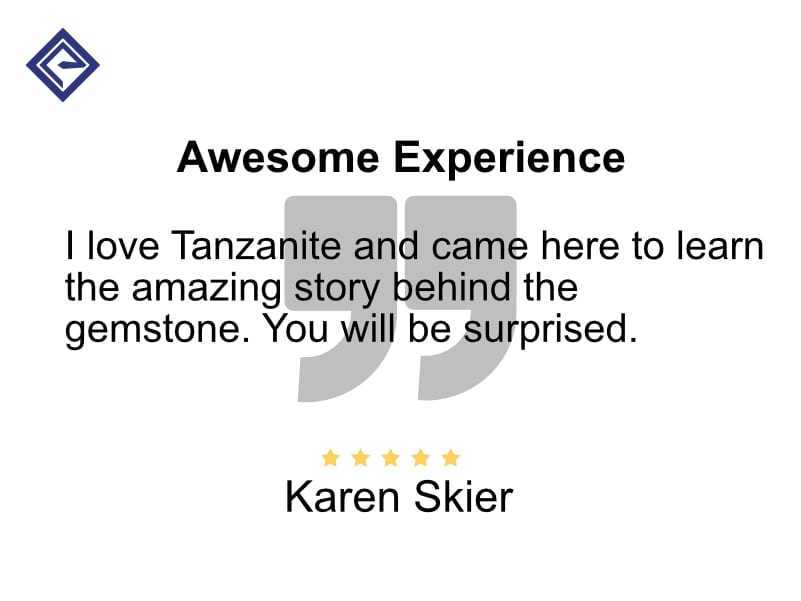 Certificate of Authenticity
Last but not least, the Tanzanite Experience provides a unique certificate of authenticity with all its Tanzanites sold. This piece of paper attests to the worthy, grading, and carat weight of the stone, as well as other key features. This document also ensures buyers that the gemstones mined by the Tanzanite Experience are extracted and cut in accordance with the Tucson Tanzanite Protocol, Labor, and Human Rights laws.