For as long as we can remember, jewelry has symbolized a statement of class and sophistication. The way you accessorize your outfits has a unique way of showing the world who you are.
Ready-made rings, necklaces and more, are an easy way of spicing up your game for a night out or a sophisticated event.
However, with so many different tastes out there, it is no wonder that some people have turned to the purchase of loose Tanzanite stones and custom-made jewelry to show their individuality.
For people looking to stand out, a piece of Tanzanite jewelry is a statement of elegance, beauty and a refined taste.
Here are Some Steps to Creating Custom Jewelry
1. Fix a Budget
One of the most important things to do when wishing to create your own custom jewelry is to set a budget.
Determining the range of money you are willing to spend on this piece of jewelry will help you manage your funds and select your type of jewel.
This budget, as far as possible, should comprise of two main sections, namely, funds for the purchase of the loose Tanzanite stones, and funds for the creation of the mount and final jewel.
This will influence your choice of metal and the intricacy of its design. It will also determine the kind of loose Tanzanite stone you purchase for this purpose.
2. Acquiring Loose Tanzanite Stones
To create your custom jewelry, the next step is to acquire your loose Tanzanite stones. Choosing the right stone is a question of color, carat, clarity and cut. Our guide to buying Tanzanite stones is an easy way to get accustomed with the terms and characteristics used in the Tanzanite trade. This will allow you to make an informed purchase and to select the stones that fit your requirements.
Even as loose stones, Tanzanite comes in all sizes and cuts, such as the round, trilliant, marquise and more.
Furthermore, as Tanzanite often comes in a range of blues, violets and lavender, the choice of the most beautiful gem depends on the eye of the beholder.
While some prefer the intense blues of the stone, others may prefer its violet undertones. In the end, the choice of the stone for your custom jewelry is up to your taste and preferences.
If you don't know where to start looking for your Tanzanites, take a look at our collection of loose stones and find your certified gemstones.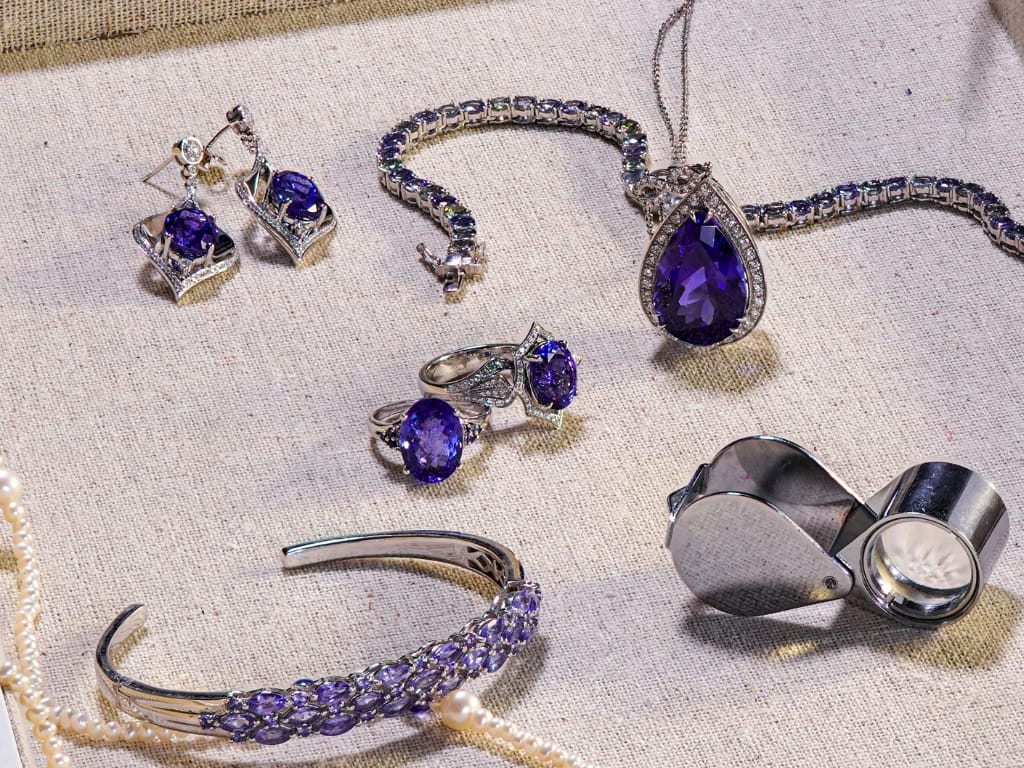 3. Design your Piece of Jewelry
The next step to designing your jewelry is to determine what type of accessory you would like. While rings are usually popular choices, a plethora of necklaces, earrings, bracelets and more can be custom-made to your desire. Once this is settled, you can start designing your custom jewel.
You should always bear in mind your budget and the occasion it will be used for. For a night out or a gala, you might prefer your jewel to be a fashion statement with intricate designs or classic elegance, however, a piece made for everyday use might compliment you better as a more discrete and subtle jewel.
Tanzanite, whether mounted in an elaborate base or on a simple set of studded earrings, is bound to stand out with its striking blue intensity and fire. So, do not be afraid to keep it simple, it really is up to your taste.
4. Find Your Jeweler
Now that you have your stones, the next step is to find a trusted jeweler. While this might not be an easy feat, you can ask advice from family and friends or ask your stone seller if they are able to make custom jewelry or if they have any recognized addresses to provide.
Once you have a prospective contact, it is important that you go and meet this jeweler and discuss your ideas together. You should also ask for proof or experience when working with Tanzanites as it is a very sensitive stone which might be damaged in the mounting process if your jeweler is not experienced.
You can then discuss with him/her and find out the best type of metals to hold your loose Tanzanite, such as white gold, silver or even rose gold among others. He/She might also be in the best position to provide insight about the different types of mounts to protect your stone.
For example, Tanzanite stones mounted on rings often require much care and cleaning, your jeweler might be able to advise you on which types and shapes of mounts to shelter the stone from abrasion.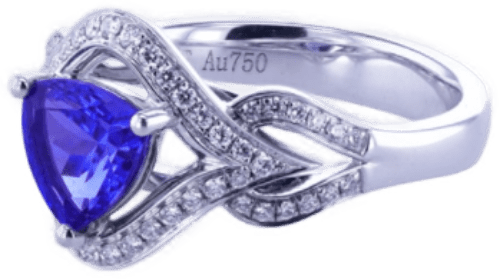 DISCOVER OUR
RINGS
Casual, engagement or wedding bands. We've got them all. Browse through our extensive jewelry collection.
VIEW COLLECTION
STUNNING
EARRINGS
Studs or dangling, whatever you like. We've got them all. Browse through our extensive jewerly collection.
VIEW COLLECTION
RADIANT
PENDANTS
Pendants for every ocassion and all kinds of budgets. Browse through our extensive jewerly collection.
VIEW COLLECTION
UNDERSTANDING TANZANITE
BUYER'S GUIDE
Learn about the important grading process on how our Tanzanites are graded based on their 4c's.
LEARN MORE
5. Discuss your Terms
The final step to the creation of your custom-made jewel is to discuss your terms with your jeweler. He/she would usually charge a minimum fee for the production of the mounts, especially if those are made from scratch.
You should make sure this price fits within your budget. You will then have to establish a set process and timeline from the first discussions to submitting the designs, having a preview and the delivery of your final piece.
While mounting a stone on a setting can be done relatively quickly, creating custom jewelry is a lengthy process which requires much patience, especially if your designs are complex and intricate.
Your unique personality deserves unique jewelry. Creating custom-made jewelry is all about designing something as exceptional as you which reflects your style. It is an audacious and fruitful endeavor which takes you on adventure into the world of jewelry and Tanzanites.
ANOTHER OPTION FOR CUSTOM JEWELRY
You can also visit our online store to purchase beautiful Tanzanite jewelry in case creating custom jewelry seems daunting for you. The Tanzanite Experience team will be more than happy to guide you through our collection in case you have any questions or difficulties.